Why Baltic Amber?
Raw Baltic Sea Amber has countless natural healing benefits, but is most commonly known to alleviate aches and pains like headaches, asthma, arthritis, joint pain and so many more - without any side effects! It also has the ability to heal wounds and reduce inflammation in the ears, throat, stomach and respiratory system. It will forever be one of earth's most treasured gifts! 
CanyonLeaf is proud to work with artisans in Lithuania that have been in the trade for generations. Each piece is hand-strung with love, using 100% Genuine Baltic Amber and Natural Gemstones.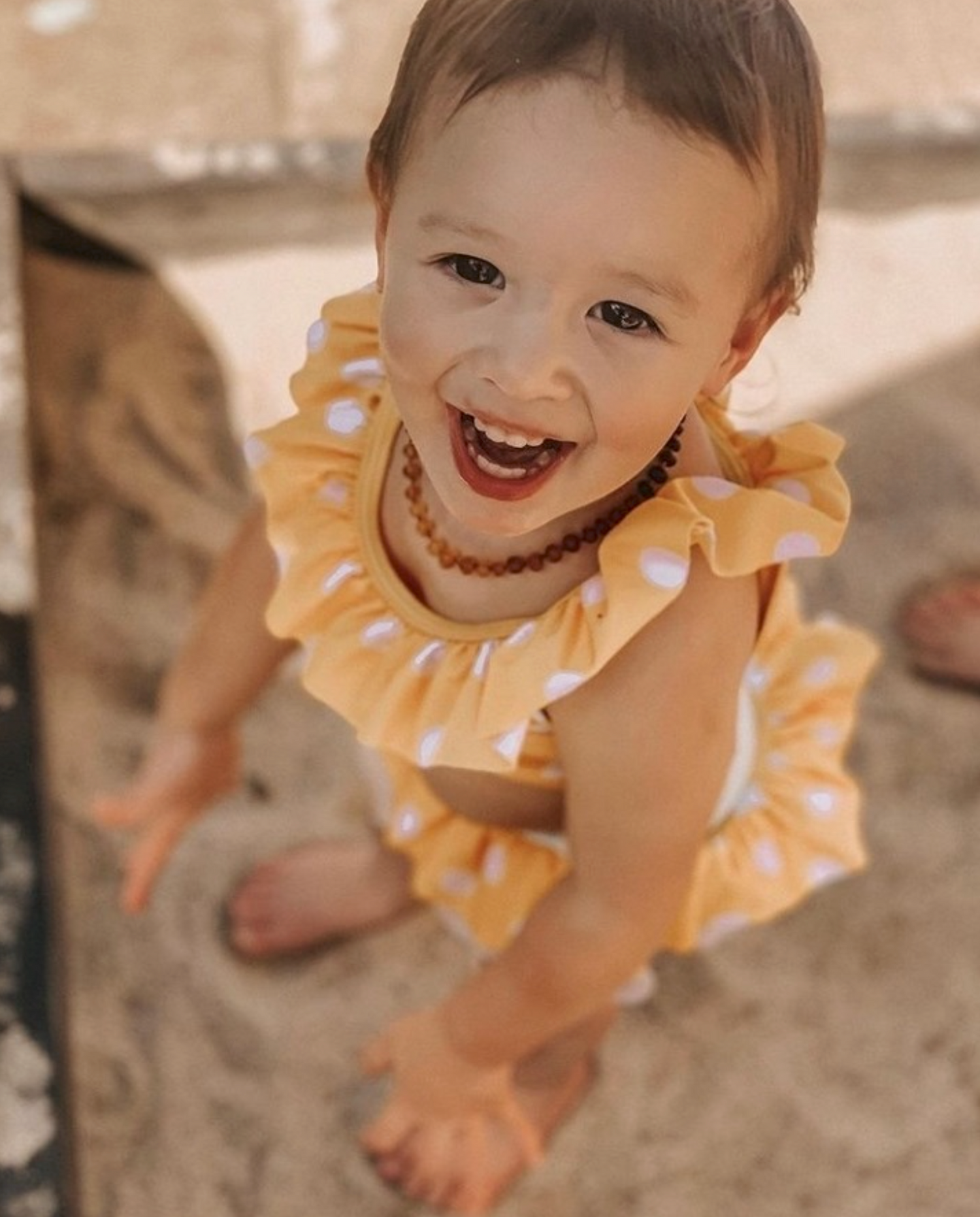 Teething Concerns
Along with other aches and pains, Raw Baltic Sea Amber can be especially helpful with teething. It is known to accelerate our natural immune system's ability to heal wounds and reduce inflammation. The necklaces are especially helpful as they offer the most coverage of amber, closest to the source of pain.
How does it help? Baltic Amber is 45 million-year-old fossilized tree resin {that contains Succinic Acid which is a natural anti-inflammatory}. When you wear the amber jewelry it warms with your body heat and you absorb the succinic acid through the skin. It is wonderful for all ages, not just teething babes!
Shop Necklaces
"Good Quality"

I love the quality and intention of these beautiful amber jewelry pieces. We have a mommy and me set, and my daughter and I wear them all the time.

"I love the Amber Body Balm"

I love this baltic amber balm - I like the texture and the earthy scent as well. It definitely takes the edge off of minor aches and pains. I would certainly purchase it again!

"Gorgeous Necklaces"

Amazing quality and gorgeous necklaces! Amber necklaces have always helped my 4 children with teething pain and irritability. Highly recommend.
The More You Know
Sizing

We recommend measuring your babe with a string and ordering based off that measurement. You want to ensure that there is about a two finger gap between their skin and the necklace. That way it can move freely but not slip off. 
Where is it made?

We have a studio in California where our small team of women handmake the jewelry with love.

We source all of our Amber from artisans in Lithuania who have been in the trade for generations. They are extremely passionate about the cultivation and preservation of their beautiful Baltic Sea jewels and use all means necessary to process the amber without impacting the surrounding ecosystem, ensuring the trade to remain for many more generations to come.
Genuine Jewelry

Each piece is hand-strung using 100% genuine Amber and gemstones. Because of this we are proud to provide a certificate of authenticity with each order. 
Caring for your Amber

You would care for Amber just as you would your skin… It can be worn all the time and in the shower, in the sea and while swimming… We do recommend that you remove the jewelry if you're going to be swimming in a chlorinated pool as the chemicals that can be rather harsh on your skin will have the same affects on the jewelry... However, it can be worn with other metals and as long as the soaps are natural there shouldn't be any problems with it coming in contact with the jewelry.
Regular price
Sale price
$82.00 USD
Unit price
per